Zoo Med Natural Adult Bearded Dragon Food 10 oz – Pack of 4
£0.00
3 in stock
Zoo Med Natural Adult Bearded Dragon Food is a natural food that has been created with the nutritional requirements of adult bearded dragons in mind.
It contains the correct ratios of protein, calcium, and fiber that make up a healthy diet for bearded dragons The food is natural with added vitamins, minerals, and other trace nutrients, and does not contain any artificial colors, flavors, or preservatives.
The product comes in a 10 oz jar and is available in a pack of 4 The diet features bearded dragon favorites like clover and dandelion greens, with Miscanthus grass to provide important long-stem fiber.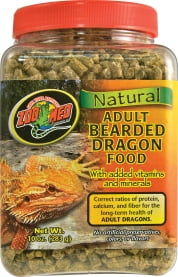 ;;;;;;;;;;"